Programme
PhD students pursue their studies either in the Strategy and Organisations group (S&O) or in the Management Science and Operations group (MS&O). Both groups offer a unique education and research experience to a small number of highly motivated students, with the intent of preparing them for scholarly careers at the highest level.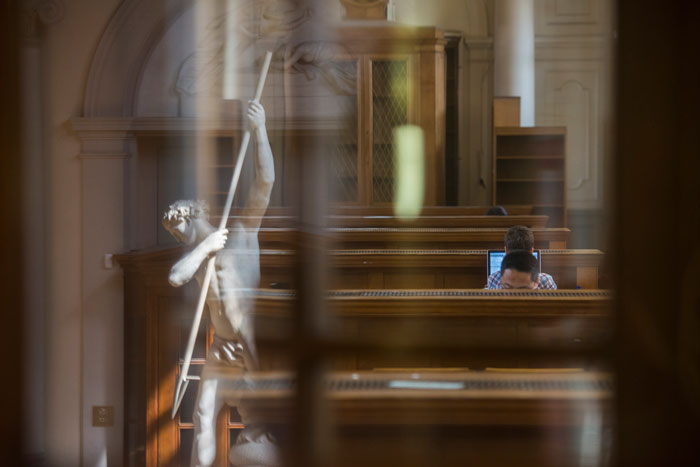 PhD studies in Strategy and Organisations
S&O faculty research ranges across organisational behavior (e.g., creativity in teams and interpersonal networks), strategic management (e.g., organisational learning and inter-organisational relationships) and organisation theory (e.g., how innovation communities form). Across different research themes, there is a shared interest in innovation, creativity, entrepreneurship, and related topics. Doctoral training involves close collaboration between the doctoral student and faculty members on shared research interests, coursework at UCL and other institutions, and independent research activities. In the S&O group, we have built a collaborative community of research faculty and doctoral students around topics of mutual interest. We also have a lively program of research speakers from other institutions, and we have links with organisational researchers worldwide.
PhD studies in Management Science and Operations
MS&O faculty research spans topics in management science (e.g., decision and risk analysis, project management, and stochastic modeling applications) and operations management (e.g., product development, operations-marketing interface, entrepreneurial operations, and healthcare operations management). Students take a set of methods courses in their first and second years from within and outside the department including, but not limited to, mathematical and stochastic modeling, microeconomics, econometrics, and dynamic programming. Students start working on a research topic jointly decided with their supervisor during their first year, and continue receiving close research mentorship throughout their doctoral studies. MS&O doctoral students frequently attend and present their research in leading academic conferences worldwide (e.g., INFORMS, MSOM, POMS) and they also benefit from regular departmental seminars by leading scholars in the field.
PhD Structure
The course structure comprises:
The programme typically consists of four or five years of full-time study, starting with one year of courses registered as MRes. These courses are typically advanced postgraduate courses to provide rigorous methodological training to prepare students for their PhD research. Along with the departmental courses, students typically take some of these from other UCL departments (e.g., Economics, Psychology), the London School of Economics and London Business School.
In addition to methods courses, students also undertake a first year research project under the tutoring and supervision of a faculty member later in the MRes year (Term 3 + Summer period).
Progression from MRes to MPhil/PhD is not automatic. At the end of the first year (MRes year), students are evaluated by a departmental committee. Evaluation is based on students' performance in: (i) taught courses, and (ii) first year research project. Students who demonstrate a satisfactory performance in these two elements will be invited to progress to MPhil/PhD programme.
Our highly selective and small-sized PhD programme ensures that each student receives personal attention and guidance from our faculty members throughout their doctoral study. The close mentorship process forms the foundations of a successful academic career.
The PhD thesis will typically consist of three papers, which should ultimately be published in top scientific and management journals. This model is increasingly favoured worldwide over the booksize thesis model.
We expect our PhD graduates to have as their goal an academic career as a faculty member in a top business school or engineering department of a world-class university
PhD applications are reviewed once a completed application form has been submitted via Prism.
Why choose us
What our students say….
'I was drawn to the Management Science and Innovation PhD programme at UCL by the prestigious academic staff and their broad range of disciplines. Their academic training at top institutions from around the globe convinced me that the environment at the MS&I Department would provide me with an intense multilateral research experience. Furthermore, having been interviewed by members of the academic staff, I immediately felt stimulated by their energetic drive. They have a passion for exploring the vast landscape of the management science discipline and are determined to produce top-notch researchers to contribute to this ever-growing academic field.'
'My main reason for choosing UCL was my desire to work with professors of the highest calibre. After one year here I have to say I am more than happy about my decision. My first year was really exciting and challenging and the conditions for conducting research are ideal. The programme has met my high expectations and proved that the Department of Management Science and Innovation is one of the top Management departments in the UK.'
'The MS&I PhD programme is designed to provide students with skills that lead to academic excellence. Candidates are part of a dynamic and vibrant group and benefit from the programme's flexibility, as they can choose from a wide range of disciplines. The frequent cooperation with world-leading faculty members enhances our knowledge and skills and ultimately leads to high quality research output, laying the foundations for a subsequent successful academic career.'
Applications
Applying for our MRes/PhD Programme
Entry requirements and admissions criteria:
We seek to recruit highly motivated, ambitious students with strong educational backgrounds. The ideal candidate will have a first degree (top 10% of his/her graduating class) from a leading university in a business, engineering, science, or a related subject. A Masters degree is preferable but not essential.
All MRes/PhD applicants are normally required to take either a GMAT test or GRE test (UCL's institution code is 3344), although the department has no minimum score requirements.
We also require you to submit IELTS or TOEFL scores if English is not your first language. Our department requires a "Good" English level which corresponds to:
IELTS: Overall grade of 7.0 with a minimum of 6.0 in each of the sub-tests.
TOEFL: Score of 100, plus 24/30 in the reading and writing sub-tests and 23/30 in the listening and speaking sub-tests. Please check TOEFL details here.

Application Deadline
You are able to apply for September 2015 entry now. Our admissions are on a rolling basis, so applying early may increase your chances. Unlike some PhD programmes, there is no January intake.

Application Procedure
Apply via UCL Postgraduate Admissions System Prism. In addition to filling out the online application form, please upload a copy of the following documents:
CV/Resume
Official Transcripts of Grades / Course marks
2-3 page personal statement or research proposal* that clearly indicates: (i) which research group you are interested in (i.e., Management Science & Operations or Strategy & Organisations), (ii) your research interests and preliminary research ideas, (iii) potential faculty member(s) you may want to work with (this is a suggested list, you don't need to contact potential supervisors beforehand), and (iv) your motivation to do a PhD.
Your IELTS/TOEFL score report, if English is not your first language.
* While submission of a full research proposal is not required, you can send us one if you have already written it up.
** You can submit your application even if you don't have a GRE/GMAT score yet—simply indicate when you plan to take the test.

Funding/Scholarships
We offer fully funded four-year MRes/PhD scholarships in the Department of Management Science and Innovation to a significant number of admitted students. The scholarship covers all tuition fees, and includes an annual stipend of £15,590 which is tax free. There is no deadline for applying for a scholarship, all successful applicants will be automatically considered.
There may also be additional scholarship opportunities at UCL

Further Information and Contact Details
The full-time MRes/PhD programme runs from September each academic year. Entrance is therefore every September. While we may accept applications until 31st May each year, we encourage candidates to apply as early as possible. Our programme is very selective and we only admit a limited number of students, so applying early may increase your chances.
For queries about the MRes/PhD Programme that are not addressed on our web pages, please contact the MRes/PhD Administrator, Susan Moffat s.moffat@ucl.ac.uk
FAQs
Frequently Asked Questions about the UCL Management Science and Innovation MRes/PhD Programme
Programme Information
How long is the Programme? Can I enrol on a part-time basis?
The UCL Management Science and Innovation PhD degree consists of four or five years of full-time study, starting with one year of courses registered as MRes. We normally do not offer any part-time study options.
What is the MRes and is it a stand-alone course?
The MRes is the first year of our PhD programme in which students typically take advanced postgraduate and methods courses to prepare them for their PhD research. Our MRes is not a standalone course, so we do not offer it as an individual degree.
Can I begin the programme in January or some other time in the middle of the year?
The programme has a single intake each September at the beginning of the academic year at UCL. It is not possible to start the programme at any other time.
Where does the course lead in terms of a future career?
The PhD Programme in Management Science and Innovation at UCL prepares candidates for academic (i.e., research and teaching) careers at leading universities in the world, and for careers where advanced research and analytical capabilities are required.
How many students do you admit each year to your MRes/PhD Programme?
Our programme is extremely competitive, we normally admit at most 5-10 students each year and we try to offer fully funded departmental scholarships to a significant number of them.
Application Process
How can I apply to the programme? What is the application deadline?
You should apply via the UCL Online Application System Prism. While we can accept applications until May 31st, we encourage you to apply as early as possible. Many candidates apply by January to start their studies in the next academic year (September entry).
What should I include in my application?
In addition to filling out the online application form in Prism, you need to upload a copy of the following documents: (i) CV/Resume, (ii) Official Transcripts of Grades/Course marks, (iii) 2-3 pages Personal Statement, (iv) your GRE/GMAT score report, and (v) your IELTS/TOEFL score report.
Do I need to contact faculty members before submitting my application?
It is not necessary to contact faculty members before submitting your application. However, we highly recommend you to visit and read the research profiles of faculty members in our two research groups: Management Science & Operations and Strategy & Organisations. Also, in your Personal Statement, you need to indicate faculty members who may be your potential PhD supervisors.
May I schedule an appointment with the Research Director to discuss my application?
Due to the extremely high volume of applications received, it is not possible for the Research Director to meet personally with applicants. If you are shortlisted, you will be offered an interview in person or via Skype if you are overseas.
Admissions Requirements
Can I get a waiver for GRE/GMAT if I have a Masters degree in the UK?
No, we expect all applicants to submit a GRE or GMAT test result before we make a final decision. Your test results are valid for five years.
Can I submit my application if I have not yet taken GRE/GMAT or TOEFL/IELTS tests?
While we highly recommend you submit your application via Prism once it is fully completed, you can still submit the application if you have not taken these tests yet. But, you should indicate in your Personal Statement when you plan to take these tests and we will not make a final decision before seeing the test results.
What are the English language requirements for the programme?
Students are required to possess a "Good" level of English if it is not their first language. This means:
TOEFL: Score of 100, plus 24/30 in the reading and writing, and 20/30 in the listening and speaking subtests.
IELTS: Overall grade of 7.0 with a minimum of 6.0 in each of the subtests.
I only have an undergraduate (e.g. bachelors) degree, and no Masters. Can I still apply to your programme?
Yes, you can. A Master's or graduate level degree is not required for admission.
I have the following qualifications…: Will I be admitted to the programme?
We must see a fully completed application, including reference letters, transcripts, statement of purpose, and test scores in order to make decisions about admissions. We are unable to comment on your suitability, chances or international qualifications based on information supplied by email. UCL Admissions checks and must approve all completed applications and qualifications before our department can make a final admissions offer.
Funding
What are the fees for the programme? Are there PhD funding/scholarships available for international (e.g., non EU) students?
Information about fees and costs is available here. We provide fully-funded 4-year departmental scholarships (including all tuition fees and stipend) to qualified candidates regardless of their nationality or citizenship.
Are there additional funding opportunities available?
We can provide Teaching and Research Assistantships to qualified PhD students. Applicants are also encouraged to explore other UCL funding opportunities and external funding sources.
Further Information
If you have any other questions regarding the programme that are not addressed on our web pages please email the programme administrator Susan Moffat at s.moffat@ucl.ac.uk